Weights and Measures
British designers and engineers used the Imperial system of weights and measures (pounds, stone, inches and feet). French used Metric (grams, kilograms, centimetres and metres). Panels, components and every single item had to fit perfectly together and some parts were made in the UK and others in France. The need to constantly convert weights and measures added an extra dimension of complexity.
Materials
Flying at supersonic speeds meant lightweight materials had to be used at every opportunity. However, the more exotic alloy metals are very expensive and add significant costs to the overall budget. Fuel consumption is key to ensure enough range in the aircraft to fly long distances, such as the Atlantic crossing, and still have enough fuel in reserves.
The other critical factor is temperature as high altitudes are very cold yet the speed of Concorde ensured very hot surface temperatures of the outer skin. When the aircraft is possibly used every day, stress and fatigue over long durations mean there is a careful compromise between material strength, weight, tolerance, complexity and costs.
New metal compounds had to be invented for Concorde including RR58 Hiduminium. This was a high duty aluminium alloy exhibiting high strength and capable of high temperature. However, ultimately, this also limited Concorde's top speed to just over Mach 2. Anything greater would call for a different airframe material capable of withstanding higher speeds.
Delta Wings
Many forms of new wing shape were tested to achieve high speed supersonic flight. The resulting delta-wing was a radical departure from anything ever seen in commercial airports. With the exception of the Tupolev TU-144, it is ironic that it has never been repeated since Concorde was first designed.
Fuel Transfer System
The centre of gravity shifts backwards through the aircraft during supersonic flight. Therefore, an ingenious system of pumping fuel around the aircraft's many fuel tanks was invented to constantly alter the centre of gravity to where it was needed. This helped speed and performance.
Droop Nose and Visor
At Mach 2, Concorde's fuselage had to resemble a dart so that it could pierce the air in the most aerodynamic way and ensure efficient movement without drag. However, this shape presented visibility problems when landing and taking-off at airports. The regulatory authorities deemed this a safety risk they were not willing to accept. To solve this key issue, the nose literally moved up and down by a few degrees so pilots could once again see the runway and surrounding areas. A visor mechanism also slid into the nose. This creative solution was typical of the ingenious level of thought that went into mastering commercial supersonic flight. It also helped to make Concorde an icon of design.
Sonic Boom
The double bang effect of the sonic boom meant Concorde couldn't fly faster than the speed of sound over land and populated areas. This is one design challenge where the engineers could never find an answer. Consequently, this limited high-speed flight routes to water and open seas. Several decades later, aerospace researchers have developed a few solutions that might work. This includes a variable length telescopic pole protruding from the nose cone that breaks up the sound waves before hitting the main airframe. Another solution involves variable leading edges of the wings to change the airflow to muffle the sonic boom.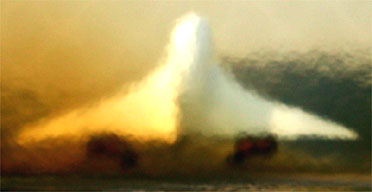 The last Concorde passenger flight to take off to tour over the Bay of Biscay from the runway at Heathrow. Photograph: Dan Chung
Sky goddess. Supersonic sensation. Stunningly beautiful. Concorde may have flown for the last time in regular service in 2003, yet remains the nation's design darling. Last night she was declared winner, by a long and beaky nose, of the Great British Design Quest hosted by BBC2's Culture Show and the Design Museum.
The results of the poll to find the favourite design since 1900 were announced on board a preserved Concorde at the Museum of Flight, Edinburgh.
Among happily grounded passengers last night were Barbara Harmer, Concorde's first woman pilot, Christopher Orlebar who flew Concorde more than a thousand times and wrote the definitive book on the aircraft, The Concorde Story, and Tony Benn, who as Anthony Wedgwood Benn and white-hot minister of technology in Harold Wilson's Labour government of 1966-70, championed Concorde during the crucial days of her development.
In the mid-sixties, the revolutionary aircraft was as politically hot as her blazing, Kevlar-coated exhaust ducts.
"I'm absolutely delighted that Concorde's won," said Mr Benn. "Whenever a Concorde flies, people look at it, it's very graceful, it's very beautiful, it is a symbol of peace and international understanding. It wasn't the most commercial vehicle to start with, but the design and beauty and skill is something that you just have to honour, and I do."
Alan Whicker, the globetrotting television presenter and veteran of countless Concorde flights, was there, too. "Concorde," he said, "was the best passenger plane ever built, I think.
"If you flew in it or even if you saw her flying over head she just swept you up. I fell in love with this glorious aircraft that looked as though it was going a thousand miles an hour when it was standing still. And when she was up and away it was a marvellous experience for everyone."
Sixty thousand feet up, where the sky darkens and the curvature of the Earth can be seen, may have been the god-like realm of the wealthy and privileged few who journeyed backwards and forwards across the Atlantic at the speed of a bullet, yet Concorde was an achievement we could all feel proud of. Naturally there were those who found the 1,350mph aircraft too noisy, too greedy for fuel and too elitist.
There were, though, never more than 14 Concordes in service at one time, and their impact on the environment was considerably less than the flotillas of jumbos and Airbuses these Mach 2 airliners skimmed past.
Concorde was grounded after an Air France flight crashed into a hotel shortly after taking off from Charles de Gaulle airport in Paris in 2000.
A supersonic 211,792 votes were cast in the poll, showing the public is fascinated with design. The Design Museum had expected 100,000 votes. Last year, BBC Today programme's The Greatest Painting in Britain poll, netted 118,311 votes, although BBC TV's Great Britons poll, won by Winston Churchill, attracted no fewer than 1,652,248.
Second place in the design vote was taken by Harry Beck's fine Underground map of 1931, a masterpiece of miniature, low-cost everyday graphic design. Third was RJ Mitchell's magnificent, supercharged and emotionally charged Supermarine Spitfire that made its maiden flight 70 years ago this month.
The original long list of entries included the mini skirt, Peter Blake's cover for the Beatles album, Sergeant Pepper's Lonely Hearts Club Band, the anglepoise lamp, the cult Grand Theft Auto video game, the world wide web, the Routemaster bus, Jock Kinneir's national road signing and the E-type Jaguar.
From 1962, Concorde was put into production at Filton, Bristol, by the British Aerospace Corporation and at Toulouse by Aerospatiale.
So, was she, strictly speaking a great European rather than British design? Oui and no: official design and development work on the Mach 2 airliner began, in Britain, in 1956.
Sir Morien Morgan, the brilliant Welsh aerodynamicist and "father of Concorde" had been working on research into the feasibility of a supersonic civilian aircraft since 1948 when the last Spitfires were going into service with the RAF and Royal Navy. A model of what looks exactly like Concorde, dating from 1958, is on display at the Science Museum, London.
Concorde represented the emergence from Britain of a realistic internationalism in the design of major engineering projects. She was also design at its most daring, exciting and resolved. Well almost; throughout her career with British Airways and Air France she never quite got the supersonic age interiors she deserved.
· Jonathan Glancey is the Guardian's design critic